Skip Main Content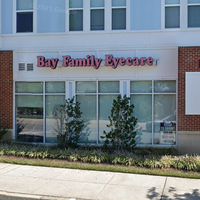 Elkridge
Address:
7310 Esquire Court
Suite 3
Elkridge, MD 21075
Elkridge Office | Bay Family Eye Care
Your Local Eye Doctor in Elkridge Maryland!
FOR YOUR CONVENIENCE, WE OFFER MORNING & LATE AFTERNOON APPOINTMENTS AS WELL AS SATURDAY HOURS!
Contact Us
Office Location
Office Location
Address:
Hours:
Get In Touch with Us:
Schedule an Appointment Online with one of our Eye Doctors Today!
YOU ARE IN GOOD HANDS!
Not sure which provider to choose? Try using our search tool!
FIND A PROVIDER
Services & Conditions Treated
VISION CARE AND EYE CONDITIONS TREATED AT BAY FAMILY EYE CARE
Bay Family Eye Care is dedicated to providing high quality optometry services to the Elkridge and Baltimore areas. In addition to offering routine eye examinations, we specialize in dry eye syndrome, macular degeneration, glaucoma, eye infections, eye injuries, and diabetic eye health. We also provide vision therapy for those patients who would benefit from these exercises.
Corneal Reshaping Therapy (GVSS)
We'd Love To Get Your Feedback!
Our practice is committed to delivering the best quality care possible to our patients. To continue improving on that promise, we'd love your feedback. Please take a minute to let us know about your recent experience - we would really appreciate it!
TELL US ABOUT YOUR EXPERIENCE